Digital Scotland reaches 150,000 premises
Tuesday, November 11th 2014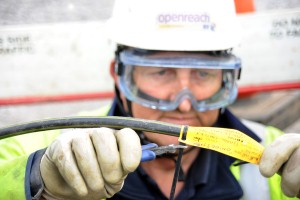 Over 150,000 premises can now access better broadband under the Digital Scotland rollout.
The £410 million Digital Scotland Superfast Broadband rollout programme has delivered high-speed fibre broadband to more than 150,000 homes and businesses in the country, Deputy First Minister Nicola Sturgeon has announced.
This figure includes 30,000 premises in the Highlands and Islands, with over 120 towns and villages benefiting from the arrival of the high-speed technology overall.
Internet loading speeds of up to 80Mbps are available to domestic properties and commercial buildings in Scotland thanks to the work of BT's Openreach division and the local government.
Around 300 km of subsea cables and 2,400 km of land-based fibre optic wires have been laid by BT engineers to deliver better broadband to the region, while 600 new green roadside cabinets have been installed. When added together, these cable lengths are enough to reach from Shetland to Land's End and back again.
Ms Sturgeon commented: "This is the fastest rollout of its kind anywhere in the UK, passing 150,000 premises in record time - an engineering feat of the kind for which Scotland is renowned."