Fort William gains access to fibre broadband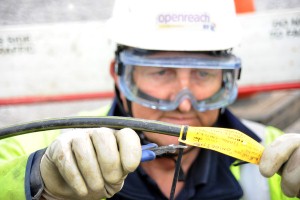 Fibre broadband has arrived in Fort William.
Homes and businesses in the Scottish town of Fort William can now access superfast fibre optic broadband thanks to the work of network provider BT.
The leading telecommunications organisation has invested £3 billion in delivering improved internet speeds to both domestic properties and commercial buildings throughout the UK, with 3,240 premises in Fort William now connected to the high-speed technology.
BT's Openreach Engineers are still working on the local rollout, which means the number of connected properties will increase to approximately 3,800 in the coming weeks.
Leader of the Highland Council Drew Hendry commented: "Superfast fibre broadband in Fort William offers huge benefits to local residents and businesses and will help our local economy flourish."
Scotland Director for BT Brendan Dick added Fort William residents would now be joining the more than 2.7 million premises throughout Britain that are already connected to the fibre network. This will enhance their experience of many online activities, including studying, watching videos, downloading music and social networking.