Peppard, Gallowstree Common and Sonning Common to get fibre broadband?
Tuesday, September 9th 2014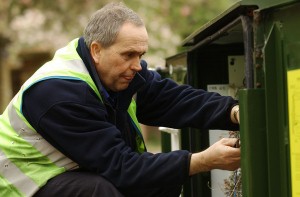 Fibre broadband could soon be arriving in more Oxfordshire villages.
Planning applications have been submitted to install eight new green roadside cabinets in South Oxfordshire, meaning fibre optic broadband could soon be on its way to homes and businesses in Sonning Common, Peppard and Gallowstree Common.
These plans have been received by South Oxfordshire District Council from BT Openreach, proposing that six green boxes are installed in Sonning Common and one each in Gallowstree Common and Peppard.
The Henley Advertiser reports that a BT Spokeswoman has said the cabinets could allow more than 1,870 local homes and businesses to connect to the superfast fibre network, which would enable them to make significant improvements to the way they use the internet.
Planning permission is required for the boxes, as they will be either four or five feet tall.
Better Broadband for Oxfordshire is the local rollout project and aims to deliver the high-speed technology to 90 per cent of the county before the end of next year, thanks to funding from BT, Broadband Delivery UK and Oxfordshire County Council.