BT announces boom in Wi-Fi hotspots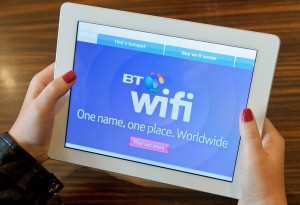 BT has had to boost its portfolio of Wi-Fi hotspots in order to keep up with growing demand.
BT has revealed a huge increase in the number of people using its Wi-Fi network to access the internet while they are on the go.
The telecoms provider said it has been adding more than 20,000 new hotspots to its portfolio a week over the past year, which brings its total in the UK and Ireland to more than five million.
During 2012-13, in excess of 400 million connections were made, with users also spending more time online on their smartphones and tablets.
Altogether, they consumed 13 billion megabytes of data from wireless hotspots, which is the equivalent of 3.9 billion MP3 files being downloaded in 12 months.
In London alone, there are more than 543,000 locations where consumers can access BT's internet service and it is free for BT Broadband customers.
Chief Executive of BT Wi-Fi Andy Baker said: "People are now so confident and comfortable with their gadgets, we've had to meet the demand with more hotspots in a wider choice of places."
Earlier this month, it was revealed that BT has seen demand for fibre optic broadband accelerate throughout the 2012-13 financial year, with more than 1.5 million homes and businesses now using its super-fast broadband products.