BT brings fibre broadband to Shaftesbury and Sherborne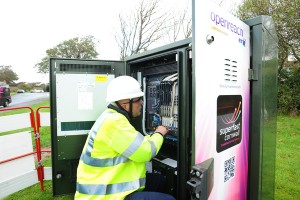 Another two Dorset towns have been hooked up to fibre broadband.
Two more Dorset towns have been included in BT's large-scale national rollout of fibre optic broadband.
More than 2,800 homes and businesses in Shaftesbury and Sherborne have already been connected, with this figure set to rise to over 7,800 as local upgrades are completed in the coming weeks.
Some 19 Dorset communities - including Bournemouth, Weymouth, Portland, Dorchester, Verwood, Blandford and Poole - have already benefited from the £2.5 billion deployment, which aims to bring superfast broadband within reach of two-thirds of UK properties by the end of spring 2014.
By that time, in excess of 260,000 properties in Dorset will be served by fibre broadband from BT.
The arrival of superfast connectivity in Shaftesbury and Sherborne has been welcomed by MP for West Dorset Oliver Letwin, who said the service will offer benefits to residents and businesses.
"Broadband is an essential part of Dorset's present and future. It's vital that we embrace this latest generation of technology in order for our local economy to remain competitive," he added.