BT fibre broadband network passes 21m properties
Thursday, October 30th 2014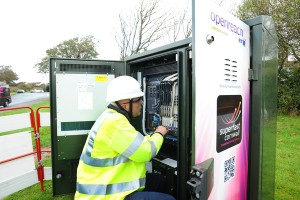 Some 21 million homes and businesses can now access superfast broadband from BT.
BT saw its fibre optic broadband network coverage pass 21 million properties during the three months to September 2014.
In its financial results statement for the quarter, the telecoms giant revealed that Openreach – its local access network business – racked up a further 344,000 superfast broadband connections over the period, up by nine per cent year on year.
This growth took the number of homes and businesses to have signed up for the service to around 3.4 million, representing about 16 per cent of properties passed by the rollout.
Over 40 per cent of net additions came from external communications provider partners.
BT has also made progress in extending its fibre broadband coverage beyond the limits of its commercial rollout, through its partnerships with local authorities under the government's Broadband Delivery UK (BDUK) programme.
In all 44 of its original BDUK areas, the company has brought the technology within reach of around 570,000 properties.