BT Openreach brings fibre broadband to Rugeley and Colton
Wednesday, September 10th 2014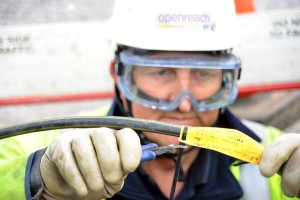 Fibre broadband has arrived in Rugeley and Colton.
Fibre optic broadband has arrived in the Staffordshire communities of Rugeley and Colton, thanks to the Superfast Staffordshire rollout project.
While delivering the high-speed technology is not a particularly challenging task throughout much of the country, BT Openreach Engineers had to overcome several obstacles when trying to connect Rugeley and Colton homes and businesses to the superfast service.
They had to work across a deep water stream to lay cables, but the task was carried out in conjunction with improvements to local power lines to help to minimise disruption.
Now the work of BT and Staffordshire County Council is complete, an additional 5,350 premises in the county have been connected to the fibre network.
Cabinet Member for Economy, Environment and Transport at Staffordshire County Council Mark Winnington spoke about the benefits of local people gaining access to fibre broadband, explaining: "It means they can access fast broadband speeds for the first time and opens up opportunities in education, employment, leisure and more."