Elin Jones welcomes fibre broadband to Aberystwyth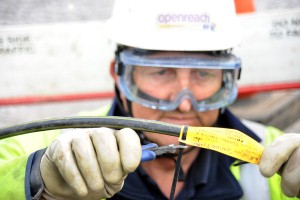 Superfast fibre broadband has arrived in some parts of Aberystwyth.
Elin Jones, Welsh Assembly Member for Ceredigion, has welcomed the arrival of superfast fibre optic broadband to Aberystwyth.
However, Ms Jones said that more needs to be done to bring the high-speed technology to the whole of Ceredigion, as certain parts of the area experience particularly slow internet loading speeds, the Tivyside Advertiser reports.
The Assembly Member has been campaigning for fibre broadband to come to the community of Ceredigion since the launch of the Superfast Cymru regional rollout programme, which is supported by the Welsh government.
Ms Jones said: "It's good to see engineers at work in many parts of the county installing fibre cable and I would encourage people living in Aberystwyth now to contact their service providers to see if they can get the latest superfast service."
She added that most of the green roadside cabinets in the Ceredigion area will be updated to be able to receive faster internet within the next 12 months, but that she will be continuing to speak to the local government and BT to ensure that the rollout goes ahead on time.