Fibre broadband arrives in Harlow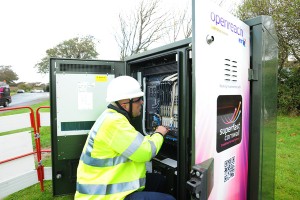 Many residents in Harlow can now connect to fibre optic broadband.
Residents and companies based in the town of Harlow are among the first to benefit from a fibre optic broadband connection under the newly-launched Superfast Essex rollout programme.
To mark this exciting occasion, an official unveiling of the first green roadside cabinet to go live in the area took place at the Harlow Enterprise Zone, with local council representatives and employees from network provider BT attending the event, the Harlow Star reports.
Deputy Leader of Essex County Council and Cabinet Member for Economic Growth and Infrastructure Kevin Bentley commented: "Businesses and residents do a lot online and support the economy in doing so, with online shopping and working, and it is important that they have the correct speeds."
Around 70 premises based in the Harlow Enterprise Zone will gain access to the high-speed technology to begin with, but the regional rollout will cover 87 per cent of residential and commercial properties in Essex by the summer of 2016.
In addition, BT's own nationwide rollout programme has brought fibre broadband to over half a million Essex-based homes and businesses.