Fibre broadband passes 610,000 Kent properties
Friday, October 24th 2014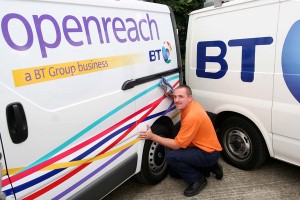 More than 610,000 homes and businesses in Kent can now access superfast broadband.
Kent's fibre optic broadband coverage has passed the 610,000-property mark, according to BT.
More than two-thirds of homes and businesses across the county are now able to access superfast connectivity, which offers speeds of up to 80Mbps.
Over 1,600 green street cabinets have been installed as part of the rollout, while a further 300 are set to be fitted in the future.
Three communities – Sevenoaks, Bearsted and Loose – have displayed the highest level of demand for the technology, with residents and businesses in these locations taking full advantage of the many benefits provided by fibre broadband.
The project is delivering a significant boost to the local economy. Research conducted by Regeneris Consulting suggests fibre broadband could create 225 new jobs over a 15-year period.
Peter Cowen, BT's Regional Director for the south-east, said: "The arrival of fibre in more parts of Kent can really help local firms in these economically challenging times, opening up new ways of working and speeding up vital operations, such as file and data transfers, conferencing and computer backup."