Arrival of fibre broadband welcomed in Monmouth
Tuesday, September 2nd 2014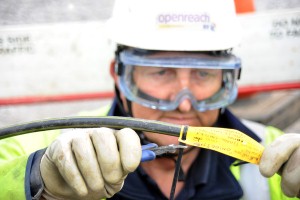 The arrival of fibre broadband in Monmouth has been welcomed by local residents.
The arrival of superfast fibre optic broadband in Monmouth is being welcomed by residents and firms in the town alike.
Better broadband has made its way to the town thanks to the Superfast Cymru rollout programme, which aims to connect 96 per cent of domestic properties and commercial buildings in Wales to the high-speed technology by 2016.
BT Programme Director Ed Hunt commented: "Superfast fibre broadband in Monmouth offers huge benefits to local residents and businesses and will help our local economy to flourish. Whatever you're doing online, you can do it better and faster with fibre."
It is hoped the technology's presence in the town will boost the local economy, by reducing the need for travel to access good internet connections, while also helping to create more jobs.
By this time next year, communities including Little Mill, Raglan, Gobion, Cross Ash and Llantilio will also have received a connection to fibre broadband under the Superfast Cymru rollout.
Residents are being urged to contact their internet service provider to find out more about upgrading to the fibre network.