BT fibre broadband rollout creates new Staffordshire jobs
Friday, November 7th 2014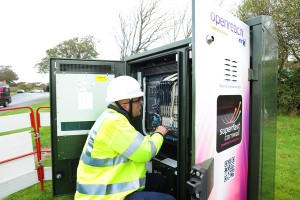 BT has launched a recruitment drive in the West Midlands.
Network provider BT's work to roll out fibre optic broadband to homes and businesses throughout the UK has led to the creation of an additional 20 engineering jobs in north Staffordshire.
The new recruits will work for BT's Openreach division, which is responsible for upgrading green roadside cabinets and using other techniques to deliver improved broadband to residential and commercial properties up and down the country.
Overall, BT is seeking 1,600 individuals from across the UK to join its Openreach team to ensure it meets its rollout target of connecting around 95 per cent of premises to the high-speed technology over the next few years.
Regional Director for the West Midlands at BT Mike Cook commented: "For the second time in less than six months, we are able to announce a boost to our engineering workforce in the West Midlands."
He added that the recruitment drive shows the company's "commitment to the region and also to our customers".