Fibre broadband rolled out to over 600 Widnes properties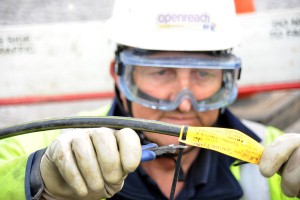 Connecting Cheshire has brought fibre broadband to over 600 Widnes premises.
The rollout of fibre broadband to both residential and commercial properties in Widnes under the Connecting Cheshire delivery project has reached more than 600 premises.
Local people can now enjoy connecting to internet speeds of up to 80Mbps, thanks to the work of over 100 BT Openreach engineers, Runcorn and Widnes World reports.
The regional rollout programme is focused on bringing the innovative high-speed technology to properties throughout Cheshire, Halton and Warrington.
Leader of Halton Council Rob Polhill commented: "[Fast broadband is] a priority to our local communities and it's good that our work as part of the Connecting Cheshire partnership has brought fibre broadband to the area."
Throughout the rest of the county, network provider BT will be laying more than 875 miles of fibre optic cable, as well as installing over 400 new green roadside cabinets and upgrading numerous exchanges to enable homes and businesses to access better broadband.
North-West Regional Director for BT Mike Blackburn noted this is a complicated task, with engineers working hard to ensure fibre broadband can become a part of people's lives.