Fibre optic broadband comes to 15,000 Surrey properties
Wednesday, October 9th 2013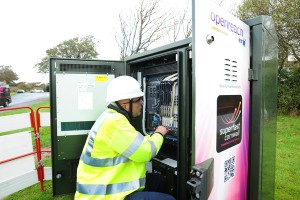 A fibre optic broadband rollout has introduced the super fast service to 15,000 Surrey properties.
Around 15,000 homes and businesses in Surrey have gained access to fibre optic broadband following the first phase of a rollout project.
The scheme is a partnership between service provider BT and Surrey County Council. The former claims, barring unforeseen technical issues, that it will bring a superfast connection to "nearly 100 per cent" of rural properties by the end of 2014.
Next-generation access has been brought to 19 areas of the county - including Bookham, Cranleigh, Dorking and Redhill - as a result of the first phase of installations.
Leader of Surrey County Council Peter Martin welcomed the rollout and said the improvements that will be felt by the region's economy could not be underestimated.
He said: "The benefits are huge, with a boost of around £30 million to the economy annually from helping firms trade online."
Mr Martin stressed the introduction of the high-speed service throughout Surrey would be an essential part of the council's quest to ensure Surrey businesses continue to compete with those in more urbanised areas.