Connecting Cheshire to host drop-in session
Wednesday, February 19th 2014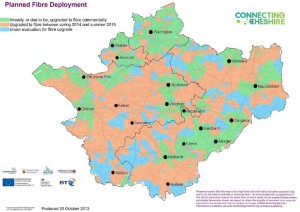 Residents in Nantwich will be able to find out more about rural broadband in their area at a drop-in session.
A new drop-in session set to be held in Nantwich later today (February 19th) will educate locals about the roll-out of fibre optic broadband in the coming months.
Connecting Cheshire, which is hosting the event, plans to enable 80,000 premises to access faster download speeds that will enable them to enjoy higher-fidelity online browsing, reports Nantwich News.
Councillor David Brown, Deputy Leader of Cheshire East Council, said: "I urge everyone to attend this event to learn more about the benefits of faster broadband, which will transform how we work, how we learn [and] how we communicate."
The drop-in event will be held at Wrenbury Village Hall on Cholmondeley Road between 16:00 and 20:00.
Connecting Cheshire has also recently unveiled a map that shows where fibre optic broadband will be made available in the next few months.
The Cheshire-Padgate exchange area of Warrington - for example - will have its infrastructure updated between spring 2014 and summer 2015, although more details are expected to be revealed in the coming weeks.